You'll certainly agree that the kitchen is the heart of every home. It's where we cook for the family, talk and where we simply spend time together. For many people, it's the key place in the whole house. If we spend so much time there, it should be a nice, cosy and atmospheric place. How do you create a beautiful, functional and modern kitchen? What accessories should you go for?
What is brass?
The design of a home relies mostly on details! They are a wonderful complement to the whole picture, and they are responsible for the final touch. When it comes to the kitchen, brass handles in a modern kitchen are an interesting solution.
But what exactly is brass? Brass, recently enjoying growing popularity, is an alloy of copper and zinc. Depending on the proportions, it can come in different shades. It has a very wide range of applications, and its popularity is constantly growing when it comes to interior design. If you want to liven up your home and give it a little makeover, brass accessories are a good choice.
Do brass handles go with a modern kitchen style?
We associate brass with antique candlesticks and golden goblets. It seems to fit better in classic or English style kitchens. Nothing could be more misleading!
Brass handles in a minimalist style will fit perfectly in modern kitchens, even those with a very simple design. Our handles are suitable for kitchens and bathrooms: all our brass handles are coated with a layer of varnish, which protects the brass and significantly delays the natural patination process (by years!).
You can opt for simple and classic brass handles or go for a more designer style. One thing is certain: it's the little accessories that make your kitchen look new, stylish and cosy.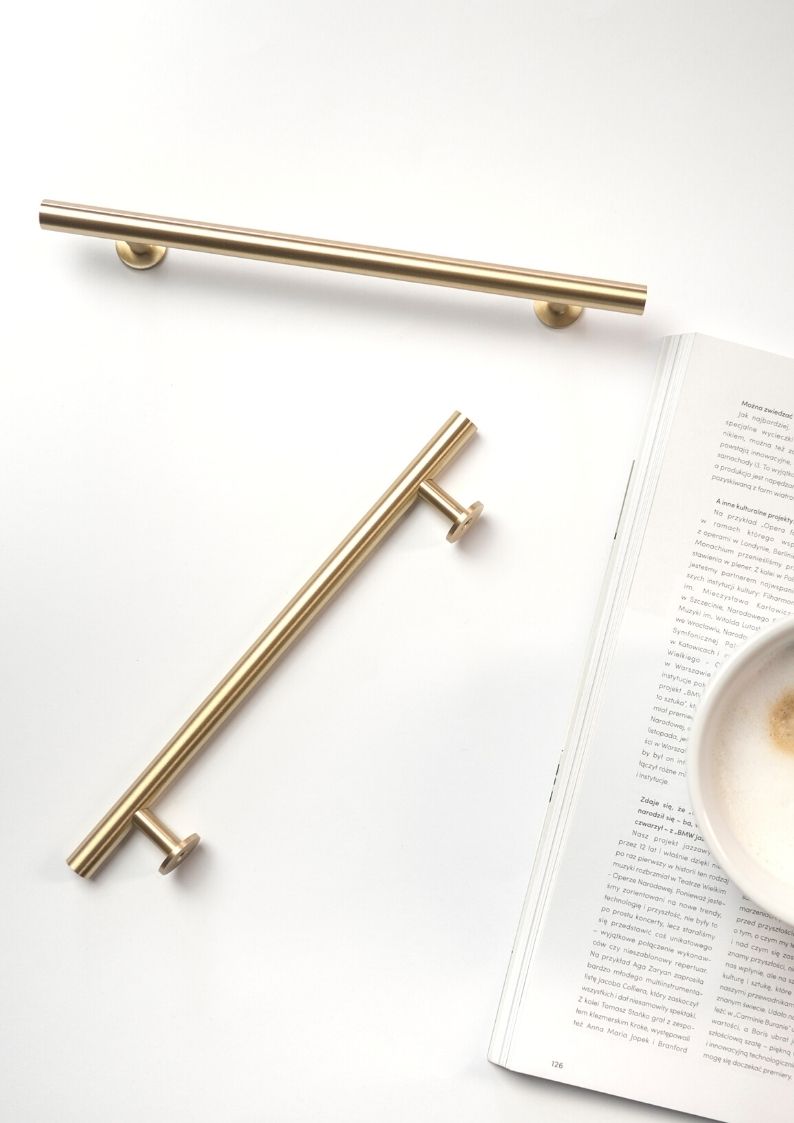 No matter what colours are dominant in your kitchen, brass handles will fit right in. They're easy to integrate into almost any space. Let your imagination run wild, and play with styles and new trends when it comes to interior design.
The most popular and most frequently chosen brass handles by our customers are rail handles: elongated. They are extremely convenient for opening even the heaviest of drawers. The models we offer in our shop have a standard spacing of mounting holes. This is important if you want to replace your old handles with new ones. Such a small detail can significantly change your interior.